Thierry, caméraman
ref.: FLM132056M
15.30 € incl. VAT 12.75 € excl. VAT
Resin hand painted figurine in scale 1:32 of Thierry. He is a cameraman for TV as we could see during LeMans race. He works with a Betakam video camera used from 1982 and still in use until 2010.
He wears a special blue jacket to be allowed to stay in the pitlane and around the track in LeMans.
Some additional details such like the headphone with microphone, the battery hung on his belt and the watch make it realistic.
Scale1/32
BrandLE MANS miniatures
CompetitionNo
Year1980-2010
EAN3700474503027
CollectionSpring 2018
See also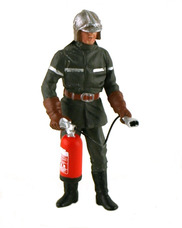 15.30 € incl. VAT
> See the product
André, policier avec son sifflet
13.50 € incl. VAT
> See the product